I help Expats living in Europe to understand the potential and power of the Financial Markets. I will help you to take control of your finances by implementing an effective money management system which will allow you to invest and reach your individual financial goals. Check out the Investors Abroad Bootcamp!
Literature is the window to new worlds. By reading a book, you consume a huge amount of research in a relatively short amount of time, and it is one of the best ways to improve your financial skills. Thank you to all these wonderful authors for sharing their knowledge with us! When you find a book with a well-articulated and thought-provoking perspective, it can change your life forever. Here are some of my favourite personal finance titles, along with choice picks from my friends and colleagues in the personal finance sector.
This book took me into a great journey of discovering what of a poor mindset I had and how little when not zero, my financial education was.
I understood through this easy to read and funny story what liabilities are and what assets are. Also that the myth that you need to earn a high income to become rich is not the only way. In fact, could be the most competitive one.
Show parents why they can't rely on the school system to teach their kids about money. We do not learn about money or taxes or business at all in school. Which makes me come back to the idea that the schooling system needs a profound change and not only regarding the Financial Literacy but certainly about spirituality, civism, cultural understanding, etc.
Tony is like the most amazing Motivational Speaker ever (we all know that) from his understanding of human beings and how our thinking process and brain work, he went out his way to pill up knowledge and experience from the best of the best on the area of Finances and Investments since Tony knows that it is an area in which a lot of people need improvement and even more knowledge.
He talks about how easy it is to invest money, once you have acquired the basic knowledge for it. He praises ETFs (Exchanged Traded Funds) since they allow people like you and I (without having to have 100.000 EUR at the beginning in order to invest in something and be part of the game) instead ETFs allow us to start small and grow our savings and capital in a compounding systematical way.
It is a classical and a MUST read! This book triggers a change of mind-set and tells what is it that you need to put from your side to achieve whatever it is you want. You know, in my experience, there is not a Quick Rich scheme. It all is based on discipline, joyful effort, courage and most of all, what Napoleon Hills says " SELF-CONFIDENCE".
You have to know what is it that you want and WHY. Then settle a plan in how to achieve it… and there you go! AND get ready, because your body and mind might not like much to leave their conform zone, but to make it happen you will have to leave it and get miles away from it!
The book offers some exercises which you can print out and follow. From my point of view, these are very powerful to remind you daily to never give up and to continue working on your self-confidence!
The Seven Spiritual Laws of Success
What I love the most about this holistic change I am going through, is that it combines all areas of life, especially SPIRITUALITY! I firmly believe that without spirituality deep-rooted and growing every day, there is no way to achieve real true joyful success!
Deepak Chopra offers a life-altering perspective on the attainment of success. Filled with timeless wisdom, the essence of his teachings is distilled into seven simple, yet powerful principles that can easily be applied to create success and abundance in all areas of your life.
I am still reading this book and take some pages as daily mantras and motivational paragraphs to start my day inspired and grateful! 
Rich Dad's Guide To Investing
For my all Robert's books are a must-read, now I am looking to read his new book "FAKE", just the title excites me! In this book, Guide to Investing, Robert refers to his book Rich Dad Poor Dad, but gives deeper insights on how to invest your money and START NOW! What are you waiting for? Every month that passes you miss another opportunity to grow your money and therefore your FREEDOM.
Based on this book a started thinking and creating my first Investing Plan. I loved it! Regarding Real Estate Investments, I love "The Robert's Famous, OPM (Other People's Money)" …More to this interesting topic soon in Blog Posts!
I highly recommend to get this book and have it as a blueprint to develop and create your very own personal investing plan! If you need any support and help, I am here to guide you!
Secrets Of The Millionaire Mind
T.Harv.Eker has developed some wonderful programs and content to train your mind and change your old negative conditioning about money and abundance. Yes, it really depends very much on your mind how you see money and richness and whether you are going to achieve to get to the financial level you desire, at least it is what Harv says after years and years of studying rich and successful people. 
I have read maybe 3 times this book and have always found great new content anytime I read it… Now, it is very important that you are open and willing to get new content, because if your little voice in your mind is saying.. I KNOW THAT, or that is silly, you might like to go back and check your past conditioning, maybe it is the answer to your financial situation now. 
Get the book and be open… if things are not great financially at the moment you have nothing to lose. Otherwise is you are going good in life, still go get the book, because you do not have to wait for things to get difficult to take action. Better to act now and get your life in the way you dream and deserve it! 
Download The Cash Calendar For Free
Track your expenses for a month and reflect on your spender behaviours. The first step to become an investor is to spend less and invest more! Cut on your expenses and boost your savings.
First, we create our habits, and then our habits create our life and our results. This also applies to the money and finance areas. Working towards improving your money habits is essential and also intentional. If you are reading these lines now it's because you want to optimise your financial results.
Getting "good" with money doesn't happen overnight. It is a process and you can start with this cash calendar. Yes, it can even be quite challenging but I am sure you are up for a little challenge, aren't you?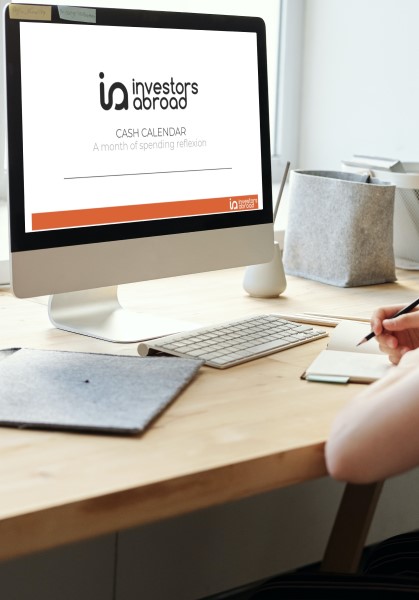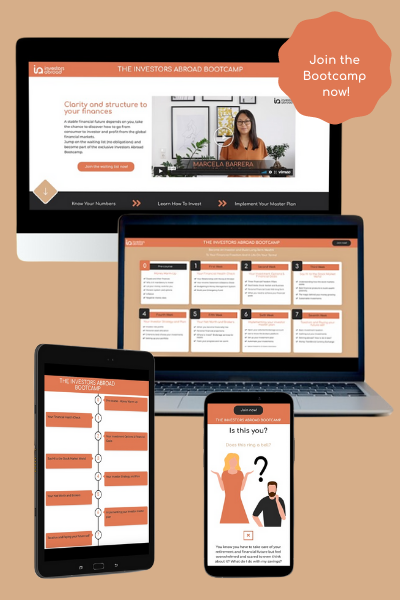 What? The Investors Abroad Bootcamp is a 7-week program in which you learn to be financially self-determined and lay down the foundation for building up your wealth by becoming an investor with a strong financial future.
For whom? The Bootcamp is for all Expats/Internationals who want to take their finances in their own hands and build a fortune. No matter how old you are or how much money you have. You can start with as little as 10 € per month! No excuses!
Sign Up For The Investors Abroad Bootcamp
I Demystify The Stock Market For Expats And Help You Build Up Your Personal Investor Action Plan
Over the last 4 years, I have been educating myself on the topics of financial literacy, stock market, investments, passive income streams, from reading books to attending seminars from the best on the topic. Financial education puts you in another position. I experienced so much power and freedom from the process that I've since made it my mission to share it with as many people as possible and that's why I started my financial coaching BIZ.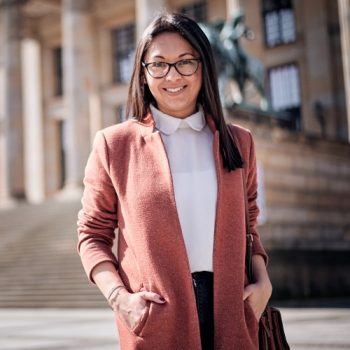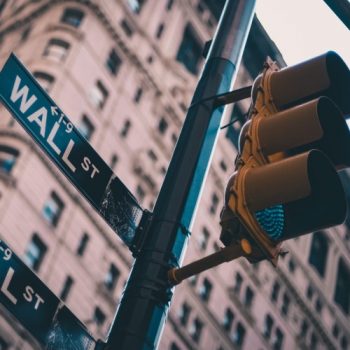 I am eager to impact as many people as possible. Expats you are invited to embrace finances and take responsibility for your financial future, especially  abroad! Join me on this transformational journey! Remember that we all have the power to create our own life path, it depends solely on us. Investing in yourself, your personal development and your growth is the easiest way to increase your income. Do never settle for less than you deserve. Dream big and take action.
COACH FACILITATOR SPEAKER
I'd Love To Hear From You
Money is in many cases the number 1 source of stress. Do you want to bring some financial literacy input and investing knowledge to your community or company? Let's chat!